Chairman
Message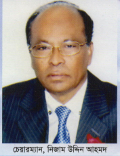 It is my immense pleasure to welcome you all to our redesigned and user friendly website. We always want to make ourselves clear to all of our Customers, Stakeholders, Sponsors and Well Wishers. This is one of steps towards that goal. From now on every detail information will be available one this website and will be up-to-date. Our honorable shareholders can find all their required information regarding MEGHNA LIFE in the Financial Info section. Our respected Policy holders can find out their latest policy status, any queries regarding policy servicing, contact persons and their address, etc. For this we have introduced a Customer Service section in this website. Policy holders can even give feedback/complain via this webpage.
For prospective policy holders, there is a Read First section where everyone can find out the ins and outs of Life Insurance. This section is specifically designed for the better understanding of Life Insurance.
I hope this new website of Meghna Life will be able to change the perspective regarding Life Insurance services.
Best wishes
NIZAM UDDIN AHMED
Chairman,
Meghna Life Insurance.